Every fortnight a small group of volunteers gather inside a building in the Swedish city of Malmo to offer repair services to anyone with faulty electronics. One of the volunteers at the 'repair cafe' is Jessika Luth Richter, an environmental researcher at Lund University. Luth Richter found out about the cafe during research for a PhD about the recycling of electronics.
"My research brought me to the issue of reuse and extending the lifetime of products," says Richter. "I was looking at the recycling of the critical raw materials used in consumer electronics, which we're not doing very much of right now.
"But then the other strategy I looked at what was using the electronics for longer, which is how I got into the repair cafes."
Richter went from a complete novice to being able to repair any number of consumer electronics devices. To help her she often uses the community repair website iFixit, which offers easy to follow step-by-step repair guides.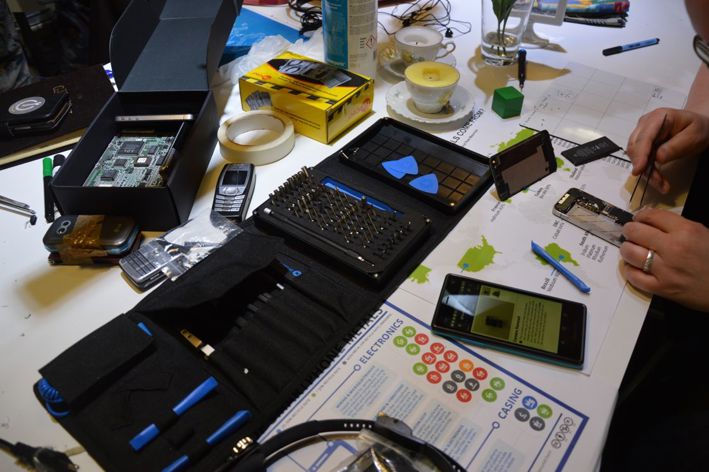 One of the common requests she gets is battery replacement, mostly for smartphones but also for e-scooters and e-bikes. People often don't know how to access the battery, but even when they can they find many batteries are glued into the device.
"The batteries are supposed to be removable," she says. "But if it's glued in, is this really removable?"
A global campaign
The Malmo 'repair cafe' is just one of many of its kind springing up all over Europe. It is part of a global movement known as the "right to repair"; a movement spearheaded by consumers concerned about sustainability and the wastefulness of throwing away consumer electronics that are easily salvageable with a little technical know-how.
There is growing support for improved repairability among the public. In the UK, for example, a recent survey by the product development consultancy Biild revealed that 74 percent of those surveyed want long-lasting and easily repairable products.
Some consumer electronics brands are taking notice of this swing in public opinion. When the games developer Valve launched its Steam Deck handheld this February, for example, it promised to sell replacement parts for the console so users can repair it themselves, making iFixit the first authorized seller of parts for the device.
Samsung has taken similar steps. While Apple announced late last year it would launch a self-service repair program in 2022. 
There is also growing political support with US president Joe Biden's administration indicating it is in favor of 'right to repair' policies. France, however, has gone the furthest, enacting legislation last year that forces makers of certain electronic devices, including smartphones and laptops, to tell consumers how repairable their products are.
More recently, this month the EU parliament voted in favor of proposals regarding repairability, adding a requirement that manufacturers increase the warranty periods.
A version of this article was originally published in the Spring issue of Consumer Electronics Test & Development magazine. To read the Spring issue click here.
A photos in this article credited to Jessika Luth Richter.