5G New Radio (5G NR), developed by 3GPP, is the first communications standard designed to support a wide variety of consumer and industry applications. 3GPP release 15 laid out the foundation for 5G NR by introducing new, flexible numerology, advanced channel coding and modulation schemes. 5G has also made more radio frequencies available. In addition to extending frequencies into the mmWave (FR2) range, it is enabling wider channel bandwidths and extended carrier aggregation schemes.
Increased flexibility typically means more variants and options, but also higher complexity. This has a great impact on the development process, from early design phases to device manufacturing. In particular, advanced RF interfaces with antenna arrays operating in the mmWave range have made test setups and procedures even more challenging, as over-the-air (OTA) testing has become necessary.
Among the tests a 5G device has to pass are tests from design phase including RF measurements, signaling test and application performance, to pass conformance testing to fulfil certification criteria and carrier acceptance to ensure network performance. Only after these steps can a product enter the production testing phase before being launched to the market (see Figure 1).

Figure 1:  A testing path for a 5G device

RF measurements: the basics
Only devices with perfect transmit and receive characteristics can transmit high-performance data via the air interface. The transmit power must remain within defined limits and the signal quality must meet minimum requirements, not only to ensure the quality of the device connection but also to avoid interference with other users.
Testing in signaling mode is required for verifying protocol implementations and is also necessary for RF parameter and application testing. It allows an easy establishment of connection and brings many possibilities to verify performance parameters with varying network parameters and scenarios.
Application tests
Mobile devices are integrating an increasing number of internet-based services and applications. With its all-IP architecture, 5G is perfectly equipped for this. IP services in mobile communications, which include voice transmission with 5G NR, are increasingly being reflected in device test programs.
Application testing allows a deeper look into the application performance which determines mobile devices and user experience: basic measurements evaluate data throughput, latency and power consumption, and verify the functionality and performance parameters of specific applications (VoNR, VoLTE, ViNR, ViLTE).

Network operator needs
Successfully passing a series of 3GPP test cases is a necessary requirement for trouble-free device operation in a real network but may not be sufficient. The many options for fashioning a 5G network (FR1, FR2 frequencies, NSA, SA, etc.) and providing network services create countless functional crosslinks and dependencies that can differ from network to network or country to country and cannot be dealt with using standardization. New, attractive features and functions can be launched on the market before suitable mandatory 3GPP tests are available, and the rapidly growing field of IP applications is simply not addressed by 5G standardization.
Network operators therefore devise their own extensive test plans to cover their specific needs, known as carrier acceptance tests. Device manufacturers, who naturally want to sell their products in the large networks, subject their devices to these tests, as do network operators. Typical tests include VoNR, the US emergency call service E911, location based services (LBS), Rich Communication Services (RCS, such as group chat, enriched calling and file sharing), and data throughput measurements with various MIMO configurations.

Radio communication tester
Radio communication testers are king of the hill in the mobile communications T&M world. In addition to providing a one-box solution for mobile device testing, they are also able to simulate a mobile network for the device under test (DUT), with all of its functional diversity, and to initiate, measure and evaluate every possible interaction between a smartphone or another mobile device and the network. The tests encompass three entirely different radiocommunications layers: physical, which must remain within tight tolerances, logical (signaling), which structures data exchange, and application, which is becoming increasingly important in the internet era.
To fulfil the diverse test requirements of 5G NR, Rohde & Schwarz developed the R&S CMX500 radio communications tester. It allows the user to configure exactly the functions and displays they need for the task at hand, such as RF parameter measurements, protocol tests, performance analyses, application tests and extensive validation test runs.
Combined with an intuitive web-based user interface, the R&S CMsquares, the R&S CMX500 was created to provide a modular solution for mobile radio testing. The solution can also be used to add 5G NR capabilities to existing test systems, such as the well-established R&S CMW500 or R&S CMWflexx test system for LTE and legacy standards. This is done through the addition of an R&S CMX500 tester and R&S CMQ500 test chamber (see Figure 2). This setup is suitable for testing all 5G NR use cases in the framework of 3GPP Option 3 and Option 2 in both non-standalone (NSA) mode, which requires an LTE substructure, and pure 5G standalone (SA) mode in all 5G frequency bands (FR1 and FR2). As the 5G technology is constantly being perfected, an important consideration from the start of the development was to make the R&S CMX500 future-proof and flexible.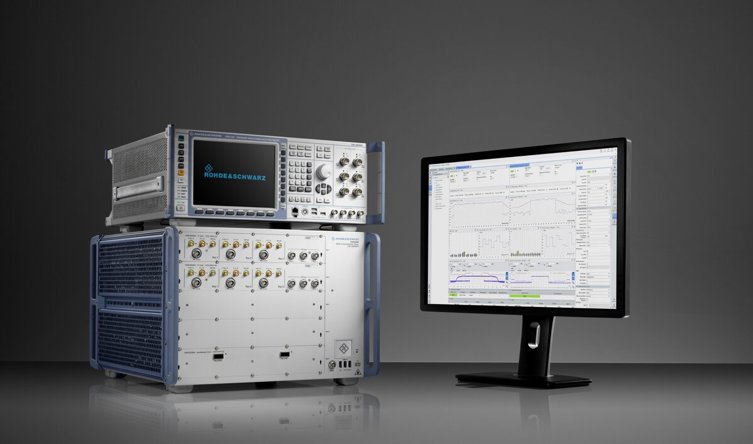 Figure 2: A 5G NR test setup consisting of the R&S CMX500 5G radio communication tester, the R&S CMW500 wideband radio communication tester, as well as the R&S CMsquares web-based user interface