According to OPPO, the Find N uses a unique landscape ratio for the inner display with users being able to switch from a 7.1-inch inner display to a 5.49-inch outer display.
Pete Lau, chief product officer of OPPO, said, "New form factors are ushering in an exciting new time in smartphone technology. OPPO has invested a significant amount of time and effort into coming up with a better approach to a foldable smartphone, experimenting with a range of form factors, hinge designs, display materials and aspect ratios, to create a new device that meets the needs of more users. With the OPPO Find N, we aim to change people's perceptions about what a smartphone can offer and begin making foldable devices more accessible to an even larger audience."
The Flexion Hinge on the OPPO Find N brings together 136 components with extreme precision of up to 0.01 mm, ensuring the hinge works as smoothly as the joints in the human body. OPPO's water-drop hinge design solves some of the biggest pain points in foldable devices by widening the angle of the fold in the display and offering a buffer when the display folds, resulting in a minimal crease that is up to 80% less noticeable compared with other devices, according to TUV.
This design also practically eliminates the gap between displays when folded, offering a more integrated look, and better protecting the inner display from scratches.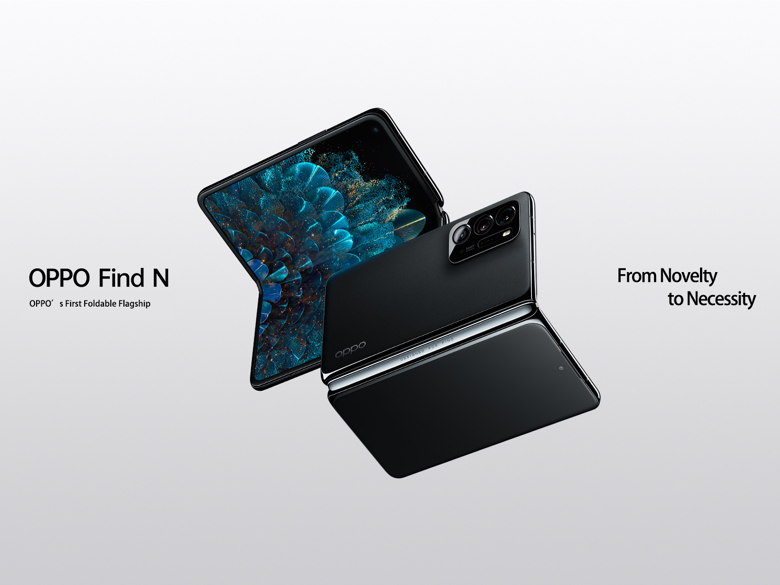 OPPO's custom 12-layer Serene Display offers protection and durability and works with the Flexion Hinge for a smooth foldable experience. The display includes a 0.03 mm layer of Flexion UTG (ultra-thin glass), compared to 0.6 mm for regular smartphone glass, allowing it to easily bend while providing strong durability. The Serene Display is also very reliable, with the ability to be folded over 200,000 times while still maintaining an overall smooth folding experience with next to no crease, as verified by TUV.
The inner screen uses an LTPO display with smart dynamic refresh rate technology that adapts the refresh rate anywhere between 1-120 Hz based on the content users are watching. The inner display also features support for a touch sampling rate of up to 1,000 Hz.
The OPPO Find N is equipped with a flagship-level triple-camera setup for high-quality photos and videos. It includes a 50 MP Sony IMX 766 main sensor, a 16 MP ultra-wide lens and a 13 MP telephoto lens, as well as selfie cameras on both the inner and outer displays. Combined with the new form factor and the adaptability of FlexForm Mode, the OPPO Find N gives users a refreshed camera experience with customized software to fully leverage the foldable form factor.
The Flexion Hinge of the OPPO Find N also allows the device to serve as its own tripod, making it ideal for advanced imaging scenarios.
"As early as April 2018, the first generation of the Find N prototype was born internally. Although a handful of other brands have already introduced foldable devices to the market, barriers such as utility, durability and user experience continue to prevent foldable devices from becoming a more feasible daily driver for most people. So, when I returned to OPPO last year, I was excited to take over this major project and guide the team to overcome the final hurdles to turn this dream into reality," Lau concluded.