What is Global Market Access? 
Global market access (GMA) describes the process of testing, certification, and approvals that enables a product to be sold in countries of choice. For manufacturers, a GMA project often involves a list of countries with different rules and regulations that need to be met to sell a product. This can be a time-consuming and frustrating exercise that frequently ends up delaying a product from reaching new markets.
Most electrical or electronic products will require a mix of radio, EMC, and safety testing to enable them to be sold globally across multiple markets. However, each country/region will often have its distinct regulations and certification requirements. When it comes to radio, for example, Brazil has ANATEL certification, Australia has RCM and China has SRRC. There can also be additional product compliance requirements in each country, such as specific safety, EMC, and RoHS certification.
Preparing for the UKCA mark to become mandatory 
Until recently, UKCA marking was due to be a mandatory requirement for all new radio equipment placed on the market from 1st January 2023. However, in November the UK government announced an extension to transition period. UKCA is now mandatory for radio equipment from 1st January 2025. Either CE or UKCA marking can be used until 31st December 2024.
In addition to referring to the new UKCA regulations on the UK declaration of conformity, manufacturers must also refer to the UK's list of designated standards where appropriate. While there is currently little difference between the two, there will likely be greater divergence in the future.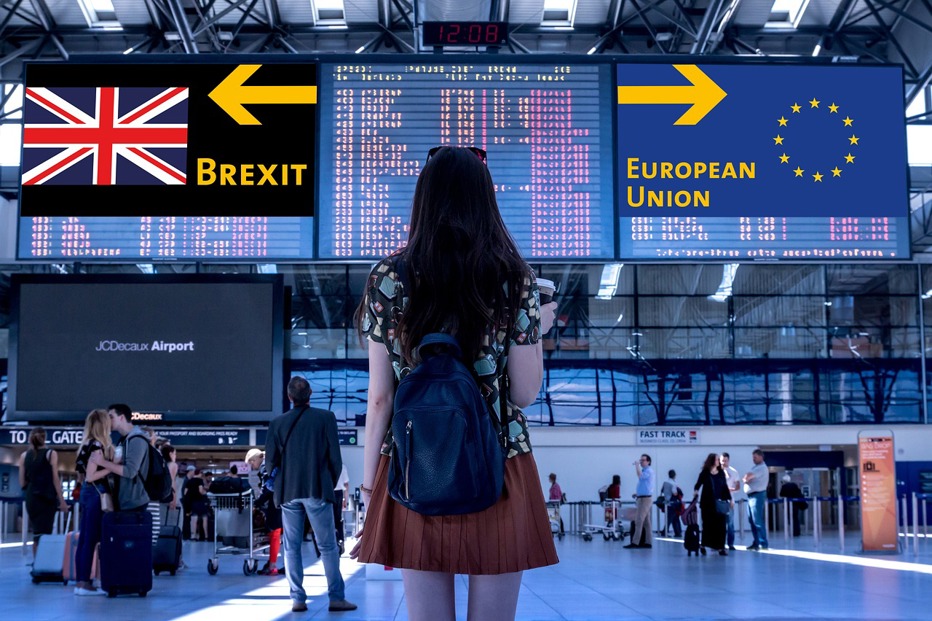 The UKCA mark was introduced in the aftermath of the UK's vote to leave the European Union. Image: Pixabay 
Keeping up to date with global changes 
If a manufacturer is looking to access multiple global markets, it is important to keep up to date with the changes in radio, EMC, and safety certification and regulatory requirements that are regularly evolving.
EMC is not as heavily regulated as radio and is not always mandatory. It can apply to both radio and non-radio devices. Manufacturers should always ensure a device is safe, however, third-party safety certification is not always required for all device types. The EMC/Safety testing and certification requirements often depend on the type of device sold (for example, household devices often need third-party safety certification). It is also worth noting that the HS code of the device may also be required.

Examples of recent changes include:
•  Chile: Approval is no longer needed for analog phones in Chile.
•  Egypt: Egypt requires additional information for products made in China and India, including a VOC certificate that is only available from a specific laboratory in China.
•  Indonesia now requires EMC testing of radio products.
•  Mexico: All Mexico NOM (safety) certificates must list an HS code (a harmonized systems code relevant to customs).
•  Singapore safety certification was renamed from SPRING to Enterprise Singapore.
•  Vietnam: Radio products under 60mW don't require approval in Vietnam – while not a recent change, it's worth noting as it's rare for devices below a certain power not to need approval.
•  Many African countries are now coming to the fore with their own regulations and ability to conduct the necessary testing locally. Ghana, for example, is implementing an in-country testing program, and Somalia is in the process of establishing its own certification procedure.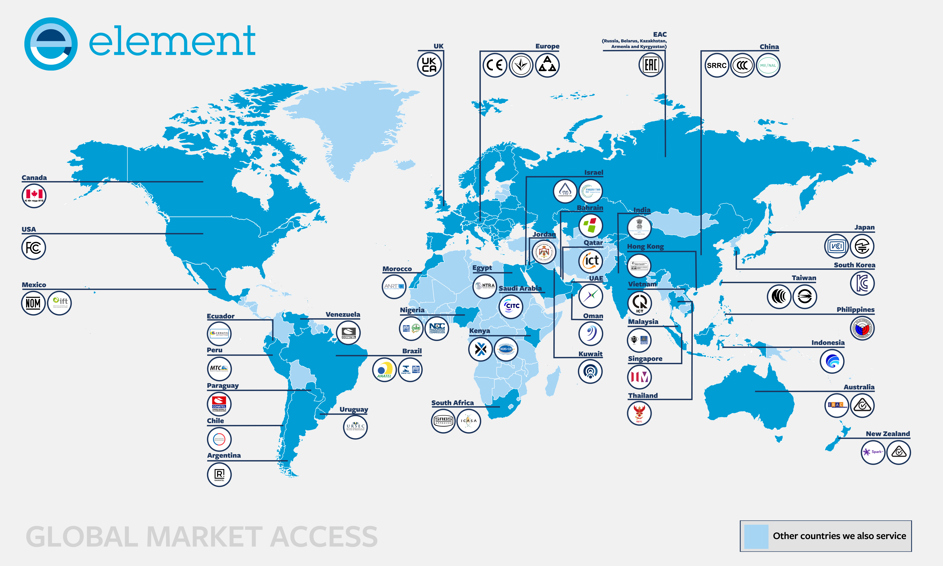 A map showing certification marks around the world. Image: Element 
Different global approaches to certification 
When looking at the requirements from a broader global perspective, it is safest to assume that no two countries are the same. Nonetheless, most countries can usually be grouped into broadly taking one of three overall approaches:
•  Countries that follow similar requirements to the UK/EU.
•  Countries that accept third-party accredited test data.
•  Countries that require testing to be carried out locally.
Countries with similar requirements to the UK/EU
The UK/EU requires manufacturers to declare compliance with the relevant regulation/directive. To do this, manufacturers usually carry out testing to designated/harmonized standards (if one is available). For radio equipment, if a designated/harmonized radio test standard is unavailable, the manufacturer should use a UK-approved body or an EU Notified Body. Testing does not need to be accredited in Europe; however, using an accredited test laboratory is beneficial as most countries outside of the EU require accredited testing.
As an IECEE certification body and a certification body test lab (CBTL), Element is also able to perform all the necessary safety CB testing and certification of products for many markets. The IECEE CB Scheme is a multilateral agreement and certification system based on IEC International Standards that can be readily accessed and accepted in international markets. A key aim of the scheme is to allow manufacturers to gain access to international markets without the need for time-consuming and costly, duplicate, or additional testing in each country.
Many countries are members of the CB scheme including China, Japan, and the US. However, obtaining CB certification for a product doesn't always mean that the product is instantly ready for shipping. For example, a device that's going to be used in the workplace in the US will often also require NRTL certification, which means slightly different testing, as well as factory, audits either two or four times a year, the cost of which is important to consider. In China, some products require CCC certification which again involves additional testing and factory inspection.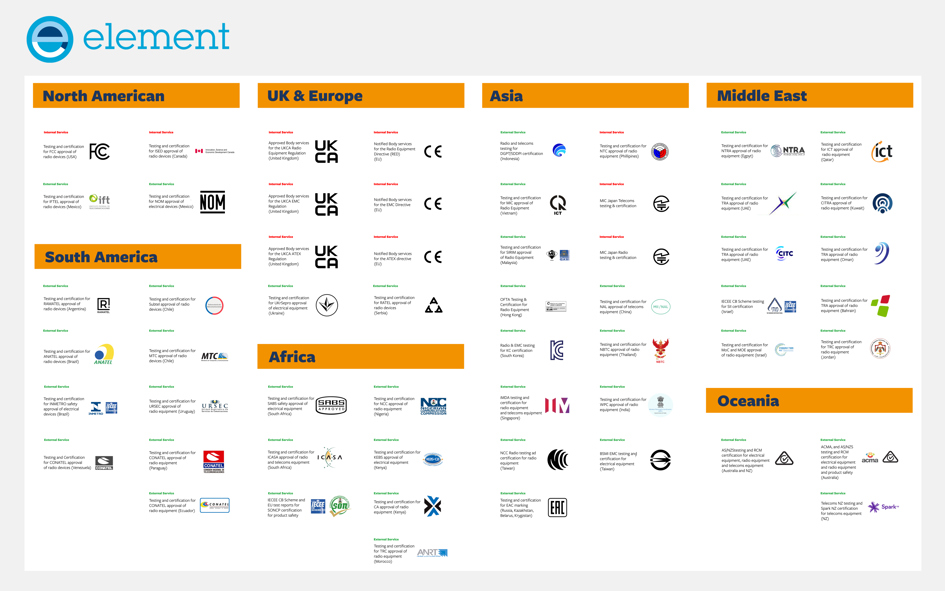 A guide to certification marks around the world. Image: Element
Countries that accept third-party test data
Many other countries will accept third-party accredited test data. For these countries, Element's GMA team can use Element's UKAS-accredited test reports to obtain the relevant certification on the manufacturer's behalf. Countries that take this approach and will accept EU test reports include India, Malaysia, the Philippines, and South Africa. In addition, many South American countries, such as Chile and Paraguay, will accept FCC test reports.
Countries that require local testing
Countries that require the product to be tested at a local laboratory include Brazil, Indonesia, Taiwan, South Korea, and Mexico.
Overseas product testing during any certification project can be a complex and time-consuming burden for manufacturers. The manufacturer will need to identify the types of certifications required for their product, source a local accredited laboratory to carry out the testing, arrange for the test samples to be shipped, ensure all the necessary documents are prepared in the required local language, and provide an example label. Once testing has been completed, the test reports and documents must be submitted to the regulator and only once a certificate has been issued, can the device be labeled.
The time taken to carry out this process can vary enormously from country to country. Delays can happen at any point on the approval journey, starting with the challenge of getting a non-approved sample into the country for testing. If there are also additional certification requirements, such as the PSE safety certification in Japan, or if the testing is required to be carried out at government-owned test laboratories, it can become a lengthy process. 
This article was originally posted on Element's website and is only reproduced here with their kind permission. For more information on Element's GMA services visit their website.